Bloop! Bloop!
Fellow Turtle, as a member in good standing, you are expected to Procure New Members. Don't worry, we won't shame you or complain if you are shy! But as a good Turtle, you are willing to stick your neck out to get somewhere, right?
Please accept this free gift of 62 Dirty Sounding Riddles with Clean Answers to get the fun started.
Here is a free, easy way to join the Turtle Club Us Pond!
Click the image of the couple laughing. It will take you to a FREE product. A PDF with the 62 Dirty Sounding Riddles with Clean Answers. Simply "checkout" by placing it in your shopping cart.
Important! During checkout ($0) click to create an account and that will generate a member number and establish your credentials as a member of Turtle Club Us! You can then join the Turtle Directory and be a part of the movement! Only your name, City, State/Providence, and Country are displayed.
More ways to support this great tradition…
Joining as an Honorable Turtle provides you with some cool member benefits and helps pay for the expenses of the Pond. Just $15 per year and you join an international group of awesome Turtles! See the options on the Join page.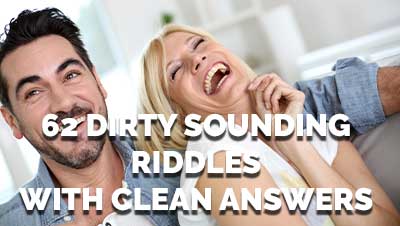 62 Dirty Sounding Riddles with Clean Answers
Click the image to the product in our shop and Create An Account during checkout to be assigned a member number. All free, but you can grab a T-shirt and some cards on the way!!